Thomas is a small blue tank engine, who was one of the first engines to work on the North Western Railway. Originally working as the station pilot at Vicarstown, Thomas wanted to see more of the world beyond his boundaries, rather than stay put in the shunting yard. He was later transferred to Wellsworth to learn how to shunt trucks.
After helping James out after a nasty accident, Thomas was rewarded with his own branch line and two coaches, Annie and Clarabel. Thomas now happily works on the Ffarquhar Branch Line, and continues to have many adventures.
Biography
The Railway Series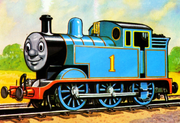 Thomas used to work as the station pilot at
Vicarstown
, where he shunted coaches and trains for the bigger engines. He enjoyed teasing
Gordon
, and would go up to him while he was sleeping and wake him up. However, Gordon managed to get back at Thomas when he left the station before he could be uncoupled, dragging Thomas along behind him as he raced across the island at high speeds. Once when the express stopped at a station, Thomas vowed to never tease Gordon again, but became interested in seeing more of the world.
Thomas wanted to take his own train and complained to the bigger engines, who laughed at him. His chance soon came when Henry became ill and could not pull his morning train, the Fat Controller allowed Thomas to take it instead. However, for unknown reasons, Thomas left the station before his coaches could be coupled up, and he was flagged down by a signalman. Embarrassed, Thomas returned to the station and fetched his train, finally leaving the station with his coaches this time.
When Thomas began grumbling again, Edward sympathized with him and allowed him to take his goods train to Wellsworth while he took care of shunting duties in the yard. Thomas happily took the train, but the trucks decided to play a trick on him and pushed him down Gordon's Hill. Thomas ran out of control with the train, and finally came to a stop on a siding.
Following his incident with the trucks, Thomas was transferred to Wellsworth to learn more about shunting. He was present in the yard when James came to the railway and was out of control with a goods train, derailing in a field. Thomas rushed to James' aid, and helped to clear up the wreckage. As a reward for his actions, the Fat Controller gave Thomas his own branch line and two coaches, much to his delight. (RWS; Thomas the Tank Engine)
Thomas loved his branch line and coaches dearly, and had many adventures on the line. He once left his guard behind when he left the station too soon, but did not notice this until he had to stop at a signal. After seeing people fishing near one of the bridges on his line, Thomas wanted to go fishing too. He got his chance when the stand-pipe at
Elsbridge
was out of order and his crew used a bucket tied to a rope to refill his tanks with river water, but a fish was dumped into his tanks, causing him tremendous pain.
In the autumn, Thomas met a tractor named Terence, and insulted him for his "ugly" caterpillar tracks. During the winter period, Thomas believed that he did not need his snowplough, and damaged it when he banged it around constantly. However, when Thomas got stuck in a snowdrift just outside a tunnel, Terence came to his rescue and pulled him out.
Thomas later met Bertie, a bus who had helped rescue his passengers when he was stuck in the snow, and challenged him to a race to Ffarquhar. Though he was behind Bertie for most of the race, Thomas ended up winning. (TVS; Tank Engine Thomas Again)
When Gordon, James and Henry went on strike, the Fat Controller asked Thomas to work on the Main Line alongside Percy, a new engine, and Edward. Thomas agreed, and worked on the main line with the two engines until the bigger engines apologized and came out of the shed. (RWS; Troublesome Engines)
While working on the tramway running from Ffarquhar to Anopha Quarry, Thomas ran into trouble with a policeman, and was booked for running along a public road without cowcatchers or sideplates. In order to solve the problem, the Fat Controller brought Toby, a tram engine he had met previously, to Sodor to help run the branch line. (RWS; Toby the Tram Engine)
Thomas began teasing Gordon relentlessly, who had fallen into a ditch and still smelled like dirty water. He received his comeuppance, however, when he fell into a mine at the Toryreck lead mines, and had to be pulled out. Thomas then struck an alliance with Gordon, who had pulled him out of the mine.
Following his accident at the mine, Thomas had his branch line taken away from him. However, after being on especially good behavior and after Gordon asked the Fat Controller if he could have it back, Thomas was given his branch line back, and he asked the Fat Controller if Gordon could pull coaches again. When the Queen was coming to Sodor, Thomas arranged coaches in the yard and shunted the Royal Train. (RWS; Gordon the Big Engine)
Thomas was later chosen by the Fat Controller to go to England, along with the other seven engines. While he was showing his temporary replacement, Jinty, how to run his branch line, Thomas boasted about his famous race with Bertie, but badly damaged his front bufferbeam when he crashed into a set of buffers. Thomas was repaired just in time, and he managed to go to England with the other engines. (RWS; The Eight Famous Engines)
After a compliment by his Driver went to his smokebox, Thomas became conceited, believing that he no longer needed his Driver and that he could manage by himself. The following day, Thomas began moving under his own power when a careless cleaner meddled with his controls, but found that he could not stop and ran right into the Ffarquhar Stationmaster's house. Thomas was sent to the Works to be repaired, and Daisy, a new diesel railcar, was brought to look after his passengers.
While at the Works, Thomas was extensively repaired and received some changes to his design, with one of the most significant changes being the design of his footplate, which was now entirely flat without the dip at the front. He returned to service after he was mended. (RWS; Branch Line Engines)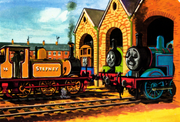 When
Stepney
was visiting Sodor, Thomas was "shunted" when Stepney had to take an important visitor back home in a special train. Thomas was initially jealous of Stepney and was infuriated that his train had been delayed, but when Stepney apologized for the hold-up and complimented Thomas' knowledge of branch line life. Thomas then befriended Stepney. (
RWS; Stepney the "Bluebell" Engine
)
After Percy told him and Toby about a "ghost train" that his Driver had saw, Thomas dismissed it as him being silly. In order to get back at Thomas, Percy pretended to be the ghostly spirit of an engine to frighten him, and managed to do so successfully with Toby's help. This made Thomas cross, and he began arguing with Percy, especially when he was running late and holding him up. After Percy found himself covered in hay and treacle, Thomas saw him at Elsbridge, and laughed at him. He still made fun of him when he returned to the sheds. (RWS; Tramway Engines)
Upon hearing that the Ffarquhar Stationmaster's gardening trophies and his new car had been stolen, Thomas noticed the thieves driving the same car through the valley and told his crew about this, who informed the Signalman about this. After the thieves were caught, the Fat Controller congratulated Thomas and his crew. Later on, when Gordon had fallen ill and could not pull the express, Thomas double-headed the express with Percy and Duck. (RWS; Really Useful Engines)
Thomas later began a quarrel with Percy, who accidentally got him covered in coal dust when one of the doors on his coal trucks opened. Their feud became more serious over time, and Thomas began insulting Percy and became rude to him. However, after Thomas' side-rod snapped and punctured his water tank, he became ashamed of his behavior and apologized to Percy, who had come to rescue him and the passengers. (RWS; More About Thomas the Tank Engine)
When a bridge on the Ffarquhar Branch Line needed strengthening, the Fat Controller sent Thomas to the Wellsworth Branch Line to work with Edward, as he was too heavy for the bridge to support. To cheer Thomas up, Edward introduced him to Bill and Ben, but they only served to annoy him when they teased him. The twins' teasing became worse overtime, especially after Thomas ran into a lorry making a delivery of dairy products. However, Thomas managed to gain the respect of both twins after he pulled Ben out of a flooded section of track when his fire went out, and both twins vowed to never tease him again. After that, Thomas returned to his branch line. (RWS; Thomas and the Twins)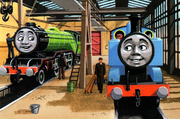 Thomas was later chosen by the Fat Controller to represent the
North Western Railway
at a railway event at the
National Railway Museum
, much to his excitement. However, the journey to York was shaky, and Thomas ran into a level crossing gate and damaged his front, and the lorry that he was travelling on was booked for parking illegally.
At the National Railway Museum, Thomas was repaired in the workshops, where he befriended Green Arrow, one of the engines owned by the museum. However, things for him did not improve, as when he stopped suddenly to avoid running over a bag on the line, his steam frightened a small child nearby. Fortunately, Thomas made up for his misdemeanors when, while he was double-heading a special train with Green Arrow, he noticed the line up ahead was damaged. Thomas was rewarded for his actions, and was made an honorary member of the National Railway Museum and received a commemorative plaque. (RWS; Thomas and the Great Railway Show) Afterwards, Thomas left York and returned to Sodor. (RWS; Thomas Comes Home)
After his Driver noticed an old, rundown coach named Victoria in a garden at Elsbridge, Thomas, having heard that Toby and Henrietta were both overworked, suggested to the Fat Controller that Victoria could be restored and work with them. The Fat Controller gladly agreed, and Victoria was restored and began working with Toby and Henrietta. (RWS; Thomas and Victoria)
Television Series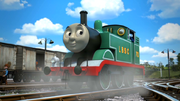 Before coming to
Sodor
, Thomas used to work in
Brighton
, where he lived and worked with other engines. He was later brought to the
North Western Railway
when the
Fat Controller
was in need of a new tank engine to shunt trains at
Knapford
, and was repainted from his original green livery to his current blue paint scheme.
Thomas was cheeky at first, and enjoyed teasing Gordon by waking him up while he was resting at Knapford. Gordon managed to get back at Thomas by leaving the station too quickly before he could be uncoupled, and though Thomas learned his lesson about teasing Gordon, he wanted to see more of the world and go beyond the yard at Knapford station. He was given the chance to pull his first passenger train when Henry became ill, but left the station too early when he mistook the Guard's whistle for Edward's train for his own, leaving behind his coaches and passengers. Thomas was stopped by a Signalman, and he went back to the station to fetch his train.
Thomas was teased relentlessly about this mistake by the other engines, especially Gordon and James, though Edward felt sorry for him and offered to let Thomas take his goods train while he took care of his shunting duties in the yard. Thomas could hardly contain his excitement and was too excited to listen to Edward's warning about the trucks, believing that he could handle them easily. However, as he reached the top of Gordon's Hill, the trucks began pushing Thomas down the line, causing him to run out of control and nearly crashed until he stopped in a siding at Maron. As punishment for not doing his work in the yard, the Fat Controller made Thomas shunt in the yard only, giving Edward the same punishment as him.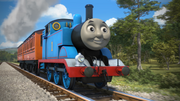 Upon noticing that Henry had not come out of the sheds to pull his train during a rainy day, Thomas raced back to
Tidmouth Sheds
, where he managed to convince a paranoid Henry that the rain would not hurt him as well as helping him finally get over his fear of the rain. Thomas continued to work in the yard, and over time, he became more skilled at shunting. While taking a break in the yard, Thomas noticed that James was being pushed by his trucks and had become a runaway, unable to stop due to his burning brake blocks. Thomas bravely chased after James and tried to prevent an accident from happening, but unfortunately James derailed and landed in a field. Thomas rushed back to Knapford and retrieved
Jerome
and
Judy
, who helped him re-rail James. As a reward for his heroic actions, Thomas was rewarded with his own
branch line
and two coaches of his own,
Annie
and
Clarabel
. From that point on, Thomas began proudly working on his branch line. (
TVS; The Adventure Begins
)
During the construction of the Sodor Search and Rescue Centre, Thomas believed that the Fat Controller would choose him to deliver the Jobi wood needed to construct the main building. As he was doing shunting in the yard, Thomas noticed Diesel taking the Jobi wood and pursued him. Thomas managed to save Diesel when he was hanging dangerously over the edge of a bridge, but unfortunately, the Jobi wood was lost. As a reward for saving Diesel, the Fat Controller sent Thomas to the Mainland to visit the rescue centre there. As the ship Thomas was to take was full, Thomas opted to stay on a small raft attached to the ship; unfortunately, the chain securing the raft broke, and Thomas ended up stranded on Misty Island, a nearly-uninhabited island which grew the rare Jobi trees. There, he befriended the Logging Locos - Bash, Dash and Ferdinand - and worked to collect the Jobi wood so that he could take it back to Sodor. Thomas and the Logging Locos ventured down the Misty Island Tunnel, but the latter three ran out of fuel and the tunnel was blocked. Thankfully, Whiff and Percy came to the rescue, and Thomas managed to return to Sodor. (TVS; Misty Island Rescue)
After Paxton became damaged following an accident, the Fat Controller sent Thomas to work at the Blue Mountain Quarry in his place. While he was there, Thomas noticed an unfamiliar narrow gauge engine working at the quarry and questioned the other engines, who pretended as if they did not know what he meant. After Thomas finally saw the engine, Luke, close up, the narrow gauge engines gave up hiding him from Thomas, and Skarloey and told him about Luke, but did not tell him specifically why Luke was hiding.
Luke eventually warmed up to Thomas after he saved Skarloey from nearly damaging himself, and Thomas happily befriended him. After working with him long enough, Luke told Thomas what he had done that had been so bad. Thomas became determined to help Luke, but things became complicated when Diesel was told about Luke by Paxton and wanted him send away. After discovering that Victor was the yellow engine Luke had mentioned, Thomas tried to tell the narrow gauge engines, but they believed he had betrayed them and told Victor about Luke. Thomas tried to explain to the engines what he had really meant - even travelling along the narrow gauge lines to tell Luke - but was too big for the small track and hung dangerously over the edge of a cliff. Luke managed to save Thomas, and after the situation was explained to the Fat and Thin Controllers, Thomas was praised for his actions, and Luke was allowed to stay on the Skarloey Railway. (TVS; Blue Mountain Mystery)
When Sir Robert Norramby came back to Sodor after many years of travelling all over the world, Thomas, along with James and Percy, was put in charge of helping the Earl rebuild Ulfstead Castle, which was going to be opened as a tourist attraction. The Earl told the three engines about his plans for the castle, as well as the job that Stephen would be doing after the castle was restored. Though the Earl told him that the job was a secret, Thomas decided to tell Stephen that the Earl had a surprise job for him, feeling sympathetic for the old engine when he was feeling depressed about the other engines having work to do; however, Stephen became too excited to wait at the Steamworks and left to go look for jobs that he could do.
After most of the castle had been rebuilt, the Earl had Thomas and Percy take away the train of stone and rubble; however, both engines did not wait for James to return and forgot to have one of them stay at the front, causing the train to run out of control on the steep hill. The train came to a stop on an old siding, but unbeknownst to either Thomas or Percy, Stephen had become trapped inside the mine. The engines were sent out to find Stephen, and at last, Thomas found his damaged funnel lying outside the mine. After the entrance to the mine was cleared, Thomas went into the tunnel and rescued Stephen. He later attended the grand opening of Ulfstead Castle. (TVS; King of the Railway)
Thomas' overconfidence got to the better of him, and he became much more conceited and reckless. During a race with Bertie, he had many close calls, nearly running into Toby and narrowly avoiding rail work that was being done on the line. His arrogance hit an all-time high when, as he was shunting Gordon's coaches, he raced through Knapford with the express coaches after Gordon insulted him, but went along the points too fast, causing the coaches to derail. As punishment for causing such trouble, Thomas had his branch line taken away from him and given to a new engine, Ryan, while he was sent to the Construction Yard.
Thomas became depressed, and told Bert, Rex and Mike what had happened. To cheer him up, the Small Engines sang to Thomas, but unintentionally re-aroused his overconfidence. When he arrived at the Construction Yard, Thomas hastily began to shunt the flatbeds of rails and sleepers, ignoring the workmen's warnings and running through the barriers on the line. The ground under him caved in, and Thomas fell down a large sinkhole and landed inside a cavern, where he discovered an abandoned pirate ship. Thomas was sent to the Steamworks to be repaired, and Rocky took the credit of discovering the Pirate Ship from him.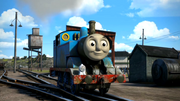 Thomas returned back to the Construction Yard after his repairs, but was not repainted and cleaned, leaving him covered in dirt and paint scratches. While sleeping on a siding in the yard, Thomas noticed a small sailboat coasting down the line to the cavern and went to investigate. He met
Sailor John
and
Skiff
, a human and rail-riding sailboat who were searching for the lost pirate treasure. Thomas formed an alliance with the two, and helped them find the map that would take them to the treasure. The following morning, Thomas saw Ryan taking on bad coal from an old hopper, but ignored to warn him about this. This proved to be dangerous, as when Ryan delivered a train of dynamite to the Construction Yard, sparks from his funnel set some of the dynamite alight. Thomas acted quickly and safely disposed of the dynamite, but was scolded by the Fat Controller, who believed he was trying to harm Ryan.
Thomas met up with Sailor John and Skiff again, and together they searched for Captain Calles' lost treasure. However, when they could not find the treasure, Sailor John immediately became suspicious of Thomas, believing he had found the treasure first. It was confirmed the following morning that Marion had discovered the treasure first, and Sailor John confronted Thomas at the Coastal Cliffs, where Thomas told him that the Fat Controller now had the treasure and was giving it to the Museum. Now concerned that Sailor John would steal the treasure, Thomas, after apologizing to Ryan, spent the night at Knapford to protect the treasure.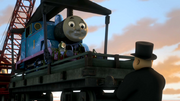 That night, Sailor John arrived at Knapford, destroying the Fat Controller's office and stealing the
treasure chest
. Thomas chased after Sailor John, who used the Pirate Ship as an escape vehicle. With the help of the Small Engines and Ryan, the Pirate Ship was pulled over at
Arlesburgh Junction
, and Thomas chased Sailor John through
Arlesburgh
, where he tried to derail Skiff. However, Thomas ran into the sea, and Sailor John and Skiff began sailing away, until a large wave capsized Skiff. Later that morning, Thomas was rescued, and the Fat Controller congratulated him for his heroic deeds. Thomas was repainted and given his coaches back, and attended the opening ceremony of the
Harwick Branch Line
. (
TVS; Sodor's Legend of the Lost Treasure
)
Thomas later met the Flying Scotsman for the first time at Vicarstown, who told him about the Great Railway Show that would be held on the Mainland. Thomas became excited about the Great Railway Show and wanted to go, but the bigger engines laughed at him, believing that he was not strong, fast or aesthetically pleasing enough to compete in any of the events. Nonetheless, Thomas became determined to go, and made many suggestions to the Fat Controller on what he could do for him, but the Fat Controller used all his ideas for other engines.
Thomas was later present at Brendam Docks when the twelve international engines that would be competing in the Great Railway Show came to Sodor by mistake, and he tried to ask them about the show. However, Thomas was nearly pushed off the dock by Ashima, an Indian tank engine who was left behind on Sodor. Envious of Ashima, Thomas refused to help her go to the Mainland, despite the fact he wanted to go just as much as she did. After his plan to be repainted failed, Thomas finally befriended Ashima, who convinced him that he did not need to change anything about himself for the competition. After Ashima suggested that he participate in the shunting challenge, Thomas eagerly accepted the offer, but the following morning, his plan to demonstrate his shunting abilities was delayed when Diesel shunted a long freight train into the yard. As he was too eager to wait any longer, Thomas decided to move the train out of the way, but the disguised diesels mistook his whistle for Diesel's horn and pushed him out of the yard. Thomas ran into Norman outside Knapford and was badly damaged, ruining his chances of competing in the Great Railway Show.
However, when Victor discovered that Gordon's safety valve had not been fitted, Thomas raced to the Mainland to deliver it to him, even jumping across the Vicarstown Bridge to get to him in time. Unfortunately, when Thomas arrived at the Great Railway Show, Gordon refused to listen to him and raced away, badly damaging himself when his boiler exploded. Afterwards, Thomas was given the chance to participate in the shunting challenge, which he gladly accepted. Thomas competed in the shunting challenge and proved himself to be a worthy opponent, but the race was briefly interrupted by Vinnie, who was chasing Philip through the venue. With Ashima's help, Thomas managed to hold Vinnie back and save Philip, then he continued to compete in the shunting challenge.
Though he was very close to winning the shunting challenge, Thomas noticed that one of the flatbeds Vinnie had derailed previously was lying on Ashima's line, and selflessly gave up his chance of winning when he chose to run into the flatbed. However, Thomas still won the competition anyway, as the judges decided to reward him for his excellent sportsmanship. After the Great Railway Show ended, Thomas, the other Sudrian engines and Ashima returned to Sodor. (TVS; The Great Race)
Personality and Traits
TBA
Technical Details
Basis
Thomas is based on the LB&SCR E2 0-6-0 class. These engines were first built at Brighton Works in 1913 without the extended side tanks that Thomas has, but later received them after 1915 to hold more water. These engines primarily worked as shunting engines, as their coal supply was too inefficient for long distance trains. All of the E2s have been scrapped, and none survive to this day. Though there have been attempts to raise money for projects to build a new E2, nothing has come up so far.
In the Railway Series, Thomas was illustrated without the dip at the back end of his running board, yet retained the dip at the front. This caused his rear buffers to be lower than his back ones, which caused some concern about whether or not he would be able to pull any trains. This was amended in the book, Branch Line Engines, when Thomas' footplate was made completely flat to level out his buffer height.
In the television series, Thomas has been depicted as being much shorter and smaller than his basis actually is. His wheels are much closer together, his tanks are more square in shape, and he also has splashers, which the original E2s did not need. His running board has always been dipped at the front, and was never fixed even after Thomas Comes to Breakfast had aired. However, in more recent appearances, his rear buffers are more level with his front ones. Thomas is also fitted with an electric headlamp that can turn on and off at his own will, and is fitted with a two valve whistle instead of the one valve whistle his basis had.
Livery
TBA
Modifications
TBA
Appearances
Trivia
Merchandise
Gallery